In resent months I've been thinking about retiring Akari Paws. I'm busy most of the time either helping to care for my mother or with commission work. While I'll keep Akari Paws up so it can remain a source of help to beginners out there I more then likely will not update it anymore, or if I do it will be VERY RARELY.
I still plan on some day down the road to having a paid for site that will feature my tutorials as well as my art gallery, but right now that's just not in the cards. Since Akari doesn't really have a job, lol. I only get commissions now and then and not at a steady enough pace to pay a monthly payment on anything. If you have any questions you can still ask via email on the "help line". I'll always do my best to get back to you as soon as I am able.
Thank you all very much for taking the time to visit me here and if you managed to learn anything that brings me great happiness.
So Good Bye for Now,
Akari
Aka
Tricia St. George
New Tutorials!
Color Tutorials useing Photoshop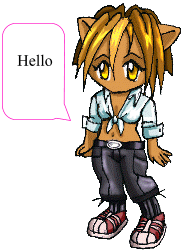 XD Akari in gaia avatar style! hehe

Like my site? Want to share it with others after it helped you out, or just want to let others know I'm here? Well just use the free link buttons blow. Add them to your site and what-not. Thank you for your support!